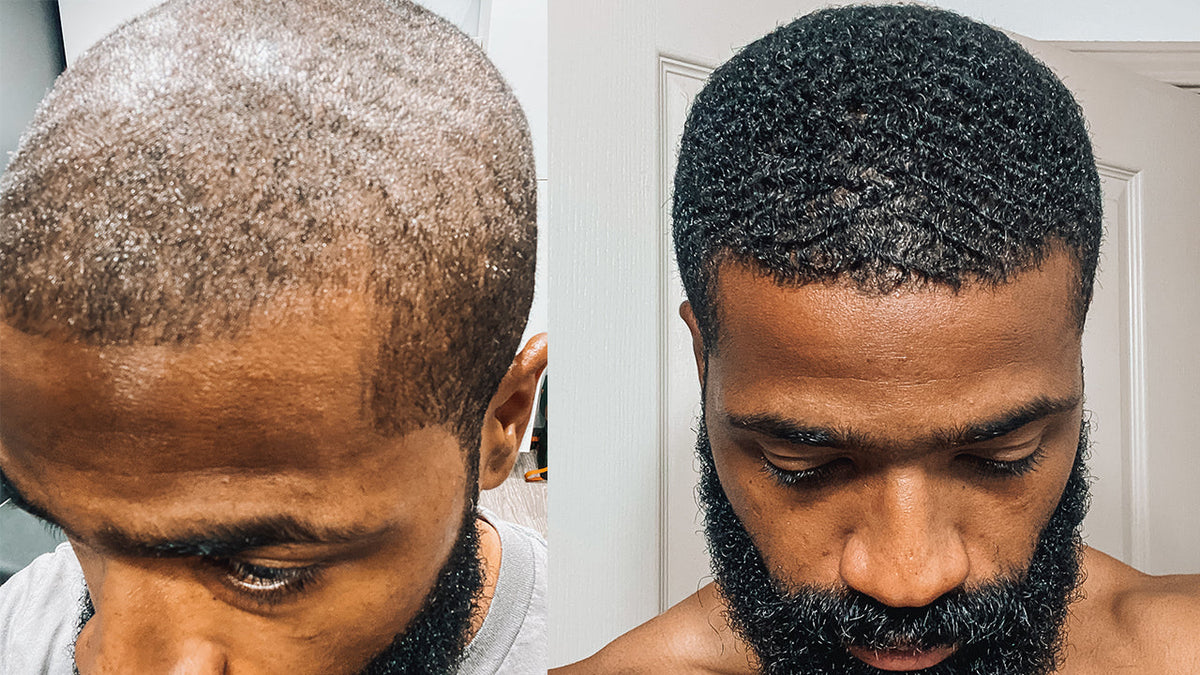 What I Learned From My Hair Loss Journey
In summer of 2018, I noticed that my hair was shedding more than usual. I took a picture of my crown area, and sure enough, my hair looked sparse. Still, I was in denial. It wasn't until November, a few months later, when I finally made an appointment to see my dermatologist, Dr. Nikki Hill.
She confirmed the very thing that I'd suspected: I had androgenetic alopecia. You might be more familiar with its other name, male pattern baldness. However, anyone can experience this type of hair loss.
I didn't want to deal with any side-effects that might come along with the pharmaceutical route, so Dr. Nikki prescribed me with a natural treatment. Having already been in the game of creating hair and beard products, I looked at my business partner and said, "This is something we can create. And, we can make it even better."
We went all in. We pored over every medical journal we could get our hands on, knowing we'd need to understand the intricacies of androgenetic alopecia in order to create a high-impact, all natural hair loss solution.
Remember, it wasn't just business. It was personal. My own hair loss journey was my motivation to seek out the best, most effective ingredients — the ingredients that would eventually go into our very own concoction.
In January 2019, I visited my dermatologist for a second appointment, after having used our serum every night for a little while. At that point, I had noticed less shedding in the shower, but it was important to me to have the consultation of a professional.
Thinning Hair ​​
Here were the major takeaways from my second appointment:
If you notice shedding, don't freak out. Shedding isn't inherently bad. As Dr. Nikki told me, "When hair is shedding, that means it's stopping the growth cycle." Every strand of hair goes through the same cycle: from active growth to fall-out. The catch is that internal or external triggers can cause hairs to complete that cycle a little faster than normal, accelerating thinning.
Treating and preventing hair loss is all about changing the environment around your hair follicles. That's why it often takes two to three months to start to notice new growth. When you're using a topical treatment, think of it as marinating your follicles; just like any other marinade, it takes time. "Then, it has to start growing those hairs from the base of the root to the surface of the scalp and beyond," Dr. Nikki shared.
Create a "barrier of protection" when using a topical treatment. Apply it to the areas you've noticed thinning, but take it a bit further as well.  "Where you may visibly see some changes, sometimes there are some changes brewing at the periphery," Dr. Nikki told me. "We always say to go about a good inch and a half around the area that you visibly can see."
I continued to use the natural remedy that my business partner and I had created, remembering everything that my dermatologist had taught me. Fast-forward a few months to my third appointment, and here's what she observed.
There was no visible inflammation on my scalp. My scalp seemed happy and healthy. And, after performing a few "pull tests," which is a method that dermatologists use to diagnose hair loss, Dr. Nikki confirmed that my hair loss had STOPPED!
As you can imagine, I was ecstatic. My business partner and I knew we had the real deal on our hands. Making it available to other people like me, who were experiencing hair loss, was a no-brainer. And since putting our product out there, we continue to receive raving reviews about how the MY Hair Repair Serum is boosting hair growth and confidence.
Regrown Hair ​​
Take a look at some of these reviews:
"So after about 9-10 ish days of using this product and massaging applied areas for approximately 90 seconds a night, I believe it's working! In around 5 days, I noticed my scalp attempting to grow hair within the thinning areas and repairing my hairline slowly."
– Nu'Juan W.
"Hasn't even been a month of using the "Hair Repair Serum" and I've already seen growth in spots where hair hasn't been in over a year. The scent of the product is refreshing and the results are satisfying. It's still early, but this (along with a derma roller) definitely works. Finally, a hair product for Black men!"
– Anthony C.  "I stand by this serum 100%. I've used it before, but after watching the video you guys posted about growth seasons, I realized the times to use it to get maximum growth. I've been out of town for a couple weeks using this, and my wife was amazed at the growth I've had in two weeks. Love it." – Oscar R.
"It's amazing! Two weeks, and the bald spot in my hairline is growing back already. I must admit that I was skeptical, but the results speak for themselves. This product is the real deal."
– Anthony B. 
"I've noticed around my crown and edges are starting to fill in where it was thinning at. Also my beard looks [and] feels GREAT!!! THANK YOU SO MUCH!!!"
– Elmore Williams J. 
"My hair has thinned to the point of nearly being fully bald. After a month of using this product, I am experiencing new hair growth. I fully recommend this product. It truly works."
– James Ellis Tyler, J.  
SHOP THE COLLECTION