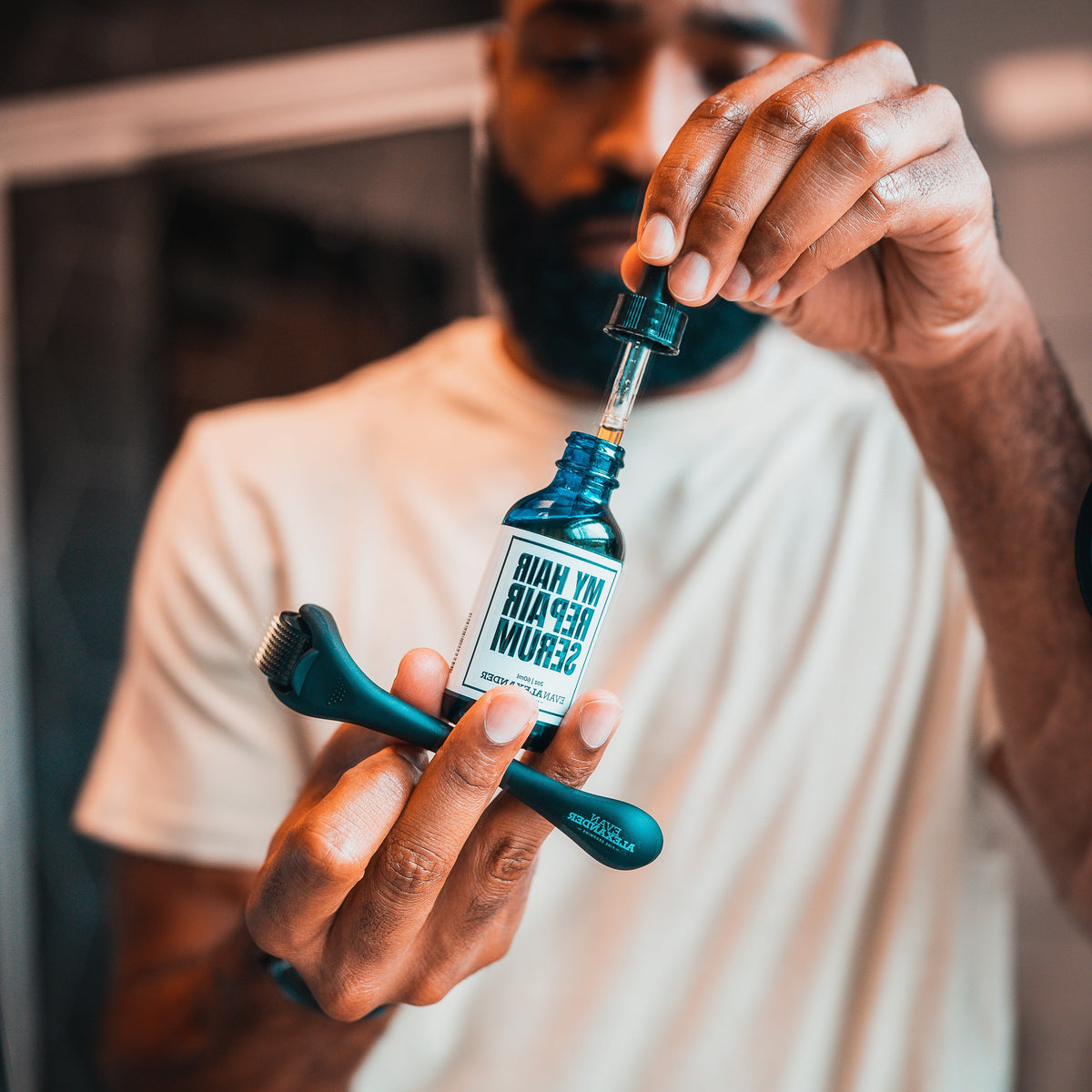 How to Make Your Hair Grow Faster: A Step-by-Step Guide to Microneedling at Home
As a certified trichologist, I've learned you need two things to support healthy hair: high-performance products and a routine to back them up. It sounds simple, but in reality, it takes a lot of trial-and-error to find the right products and refine your hair regimen. Things can get stressful and frustrating, especially against the backdrop of hair loss.
Luckily, you don't have to waste any time piecing together a routine. In this blog post, I'm breaking down my exact process — called the MY Hair Activation Routine — to help you achieve your healthiest hair ever. And, it features one of my favorite techniques: derma rolling (also called microneedling).
What You'll Need
Before you get started, gather all of your tools. Here's everything you'll need:
Liquid dish soap
70% isopropyl alcohol
MY Hair Repair System: a collection of three thoughtfully-formulated products, made especially for hair growth


Note: Skip the guesswork (and the sketchy products on Amazon) and check out Evan Alexander's derma rolling tool, which features 1.5 mm titanium needles — the ideal size for scalp use.
MY Hair Activation Routine
Step 1: Disinfect your derma roller with alcohol
Derma rolling (a.k.a. microneedling) is a technique that creates tiny punctures in your skin to trigger your body's natural healing process. Because you're essentially creating micro-tears in your skin, it's so important to properly disinfect your derma roller — before and after every use. Simply place your derma roller into a cup filled with isopropyl alcohol (at least 70%), give it a quick roll at the bottom of the cup, and let it soak for 30 seconds.
Step 2: Prep your scalp
The next couple of steps are all about creating a healthy environment for growth to take place. First, use MY Shampoo to help you remove dirt and grime without drying out your skin. This will also help prevent any infections from microneedling. Then, follow up with MY Conditioner, our proprietary formula that features tea tree and peppermint oil to stimulate hair growth.
Step 3: Treat your scalp
Take your MY Hair Repair Serum, an all-natural solution made especially for hair growth, and drop this lightweight oil onto the areas you're experiencing hair loss or thinning. Using the pads of your fingers, massage the product gently into your scalp.
Step 4: Use your derma roller
Using vertical strokes, gently roll the derma roller five times — only in the areas where your hair needs assistance. Repeat horizontally and diagonally, being mindful not to use too much pressure.
Step 5: Clean and Sanitize your derma roller
After each use, clean your dermaroller in a cup filled with lukewarm water and liquid dish soap. Roll it a few times at the bottom of the cup, then leave it to soak for 30 seconds. Rinse it under running water, let it dry, and soak it in isopropyl alcohol for another 30 seconds.
Congrats! Repeat this process once a week, and you'll be well on your way to thicker, healthier hair.
Have you tried out this routine? Leave a comment below and let us know your thoughts!
Shop Hair Loss